Date: Sunday 20 Jun 2021
Welcome! You have entered the domain of Bionicle MOC Battle Wiki! Here, contests are hosted with BIONICLE MOCs, or My Own Creations, submitted by users. MOCs will be featured in contest serials that depict the battles of each character. If your MOC wins the contest, you will be awarded! Feel free to create article pages on your MOCs, talk to other members, host a contest of your own, invite your friends, or just browse! If you have any questions, contact an administrator. But enjoy...and let the battles begin!

For beginners that need help on getting started, please refer to the Central Wikia tutorial. If you are completely new to Wikia, we ask you to create a free account.
Thank you for visiting the Bionicle MOC Battle Wiki. We hope you enjoy!

<createbox> break=no preload=Template:NewArticle buttonlabel=Create Article bgcolor=#f3f3ff </createbox>
The new Roleplay namespace is up!
The wiki's creator is active once again!
The wiki has been remodeled again!
View and comment on upcoming plans for the wiki's policy here!
Enter the first Fight to the Death on this Wiki here!
News
Hello! I've contacted Wikia about making a the new namespace we all agreed on, "Roleplay:", but there's a few more things we need to decide.
Should the pages in this new namespace be included in the wiki's page count, and in the "Random page" function?
If so, then we need to know that this should be marked as a "content namespace".
Should the pa…
Finally, this wiki has had a surge in activity. A surge, that I feel, it deserves. All the hard work by TI on the main page, all my hard work on some MediaWiki and coding things, all Fairon's MediaWiki skills he used in the early days, and Varkie's uhh, maintaining skills. :)
I ask you all to stay, please. And one rule, that if you break, you re…
Hello, everyone! As you can all tell, I have remodeled the site.
It's about time.
The color scheme has been changed around, and I definitely think the dark red and gold suits this site very well. I've also changed the logo in the top left of all pages on the site. Not too special, but it looks nicer than before.
The main page has gone through th…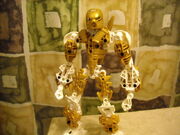 Once a soldier in the Primus Magna military, Torek is a Toa warrior of light. When he was forced to compete in a worldwide fight to the death known as Challenger, he proved to be one of the fiercest opponents anyone had ever known. Torek was the leader of a Challenger alliance known as White Faction.
Come look at ToaInfinity's creation here.
The first contest on the Wiki is here! Enter now, before the blood bath starts! Mwhahahahah. Okay, I went a little too far, but seriously, get in quick. Fight to the Death.
Overwhelmed with boredom? Unsure about what to do? Go ahead and...
Create a page for your fanon (character, location, weapon).
Host your own contest.
Read other users' fanon.
Join and contribute in a RP.
Help clean up the wiki by fixing grammar or adding categories. Your efforts greatly help us!
Upload pictures of MOCs.
Get to know the community. Don't worry, we won't bite!
Tell your friends about us! All users are welcome!
Community content is available under
CC-BY-SA
unless otherwise noted.